"The creative is a wonderful new outlet for us. The bonus is the wonderful people and connections we have made."– Care Partner / Artist Participant
Twelve artist participants in the Godfrey Dean Art Gallery's program, Belong Where You Find Yourself, have been working collaboratively and individually on drawing, painting, photography, filmmaking, storytelling, musical theatre, woodworking, sculpture and fabric art. Participants of the program meet in their homes and at the Godfrey Dean Art Gallery in Yorkton, SK, to collaborate on art making, sharing stories, and spending time together, ultimately creating works to be displayed in an exhibition this spring from April 5 to May 23, 2023.
Over the past year, Saskatchewan-based artists Alana Moore and Amber Phelps-Bondaroff have worked together with participants whose lives have been impacted by dementia. Individually and in groups, the participating local artists work through a process to tell their stories and share their creativity. The Lead Artists follow principles of community-engaged practice, including input from all participants and involving their feedback and learning at every stage.
The artists and participants have established an organic and meaningful engagement that is bringing people together, bringing families together, creating new friendships and support networks, and capturing moments of beauty, clarity, and connection. Gallery Director Jeff Morton describes the project result as multidisciplinary and multi-generational, with a range of artistic interests and forms of expression.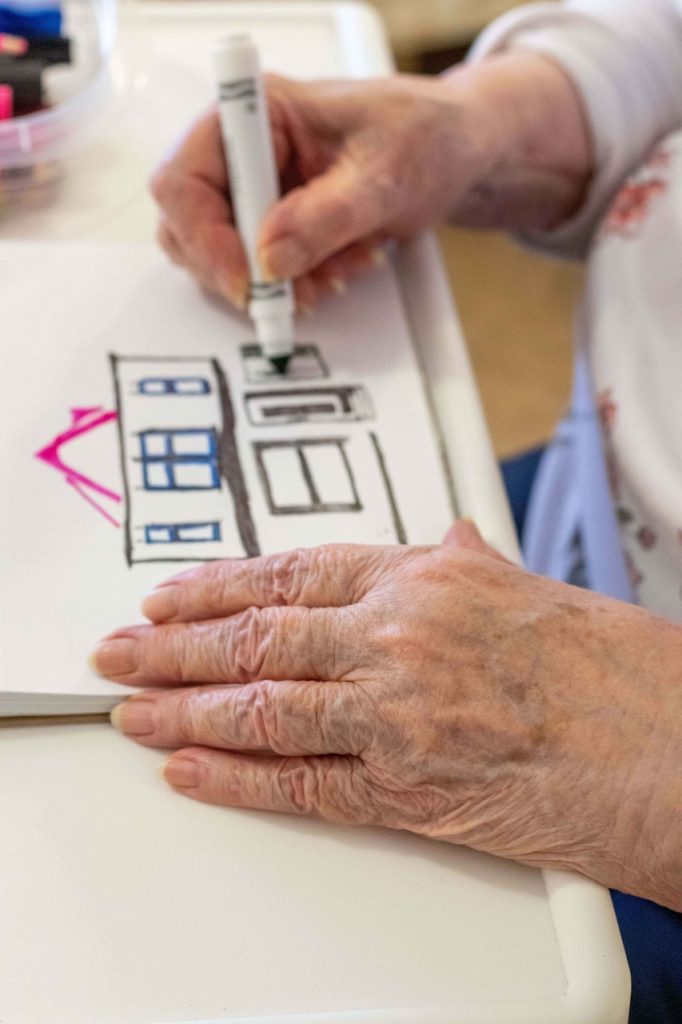 Participants enjoy visiting with each other and supporting each other during their group meetings. The participants are able to connect and share updates about their art projects. For the participants living with dementia, their social time together is an opportunity for connection. For the care partners who are often juggling multiple commitments and obligations, the group meetings are a time for mutual support.
During a coffee break, a few care partners who were visiting together told a Lead Artist how hard it is to find the time to talk to other care partners who are going through similar situations. The large meeting felt like a place where they could finally do that. Participants shared and listened to each other, celebrated each other's successes and joyful moments, and held space for each other's difficult emotions.
One care partner said, "As caregivers we can share our thoughts and concerns and ask questions of each other…It is reassuring that we are not alone in this journey."
Reaching people in rural and remote communities is critical. Most programs and services supporting individuals living with dementia tend to be urban-focused. Due to limited availability of dementia care resources in rural areas, those affected by dementia often experience isolation. To address this challenge, the project Dementia Supports in Rural Saskatchewan is supporting projects that will enhance the social inclusion of older adults with dementia and their care partners. The project focuses specifically on those living in Yorkton, Melville, and surrounding rural communities. As part of Dementia Supports in Rural Saskatchewan, the Godfrey Dean Art Gallery's project Belong Where You Find Yourself shares a goal with other organizations to increase public awareness and reduce stigma associated with dementia, particularly in rural areas of the province.
The Godfrey Dean Art Gallery's upcoming exhibition, Belong Where You Find Yourself will run from April 5 to May 23, 2023. The unique collection will tell many different stories of people in the community whose lives have been impacted by dementia (https://godfreydeanartgallery.ca/belong-where-you-find-yourself/)
An opening reception will take place on Sunday, May 7, 2023 from 1:00pm-4:00pm at the Godfrey Dean Art Gallery (49 Smith Street East) in Yorkton, Saskatchewan. For more information visit the Godfrey Dean Art Gallery's website: godfreydeanartgallery.ca
This project is funded in part by the Government of Canada's New Horizons for Seniors program.