Scaling up RaDAR Primary Health Care
Memory Clinics in Rural Saskatchewan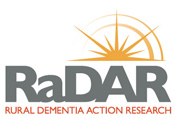 Project Update
November 2022
Watch the video on RaDAR Memory Clinics, presented at the 2022 Rural Dementia Action Research (RaDAR) Summit by Dr. Julie Kosteniuk, Research Associate at Rural Dementia Action Research:
This new project launched in October 2022. The RaDAR (Rural Dementia Action Research) team will implement and sustain rural memory clinics in the Yorkton area in collaboration with primary health care professionals and Saskatchewan Health Authority leadership. This University of Saskatchewan based project will support greater social inclusion of people living with dementia by building capacity and establishing services for dementia diagnosis and ongoing management directly in local rural areas.
About RaDAR Memory Clinics:
1-day memory clinics are held every 1-2 months in each community, with 2 new patients assessed each day.
Interprofessional Care
Memory clinic teams include a family physician/nurse practitioner, home care nurse/social worker, occupational and/or physical therapists, and Alzheimer Society First Link Coordinator.
3-hr clinic appointment includes team meetings with patient and family, patient assessments by team members, and family consult with First Link Coordinator
For more information about Rural Dementia Action Research, visit their website: here
Contact
If you are interested in learning more about this project, please email:
Dr. Debra Morgan
Canadian Centre for Health & Safety in Agriculture
College of Medicine
University of Saskatchewan
debra.morgan@usask.ca